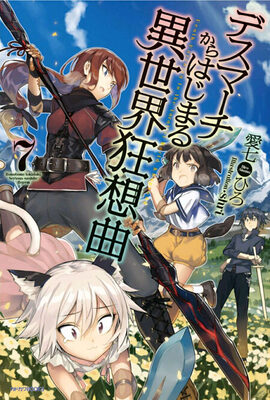 Death March kara Hajimaru Isekai Kyusoukyoku (WN) novel is a popular light novel covering Action, Adventure, and Comedy genres. Written by the Author Ainana Hiro. 637 chapters have been translated and translations of other chapters are in progress.
Summary
Suzuki, an adult programmer, suddenly notices that he's been thrown into a different world while wearing a casual clothes at level 1. He gained high levels and treasures after using the 3 times use-disposable-magic, Meteor Shower, at once. After that he intends to do different world "sightseeing tours"?
He meets 3 beast girls, beautiful purple and black haired sisters, and an eccentric blonde haired elf girl along with various people during his trip. Although there are occasional fighting with demons and demon lords, this is a heartwarming fantasy story at heart.
Please share your thoughts to rate and score...
Ssshhh
Fun story and I enjoyed it all until the end, but it's not without its flaws.
For some reason the authors focuses way too much on food to the point I found it annoying.

Also, it's filled with side stories. Some of which were enjoyable, but most were just fillers.

I didn't like the ending at all, especially how "cowardly" the MC acted.
Diavolock
Kind of.... well.... eh.

It has a very generic everything (which is not always bad) and he does a lot of pointless stuff for no reason. the author also tries too hard to make the mc seem like a good person by introducing a bunch of random conflicts.

Plantsvzombies33
I have really enjoyed this story. The actions the protagonist makes are smart and he is overpowered but thinks thing through. The only problem is the upload schedule.