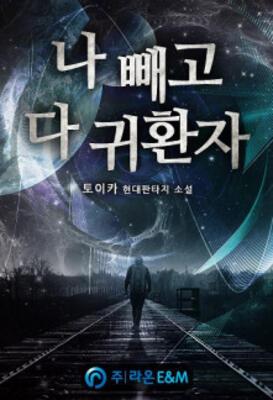 Everyone Else is a Returnee
350 Chapters 350K Views 454 Bookmarked Completed Status
The Everyone Else is a Returnee novel is a popular light novel covering Romance, Mystery, and Action genres. Written by the Author Toika. 350 chapters have been translated and translation of all chapters was completed.
Summary
Left out during elementary school picnic.
Left out during middle school camp.
Left out during high school trip.
I finally became a college student and what? I'm left out from the entire humanity?
Yu IlHan who protects the earth alone while everybody's away in other worlds.
His legend starts after humanity comes back and meets the Great Cataclysm!
Please share your thoughts to rate and score...
By far one of the best books I have ever read, the pacing, OP-ness, and characters and their growth is all done perfectly. At the start of the book high-existences are untouchable but bye the end they feel inferior and it all just feels so natural. It is a must-read for fantasy novels and has an incredibly satisfying end that is well deserved. Here is the link to the Extra's: kobatochan.com/everyone-else-is-a-returnee-chapter-349/
View Details
Absolutely love this novel the chatacter is funny and likable whilst still being a bada$$ and becomes extremely OP but without ruining the story but making it better. It is and amazing novel that I highly recommend!!!
View Details
One of the best books I have ever read. Re-read it thrice already. Guy levels up fast, is OP(having insane skills and being able to defeat higher classes), and gets girls. This book has a very interesting leveling system. It's just a pity it doesn't have many chapters.
View Details